Gulf oil spill: Study suggests latest US estimate was about right
The first peer-reviewed scientific study of the volume of the Gulf oil spill concludes that 4.4 million barrels spewed into the Gulf – very close to the government's estimate.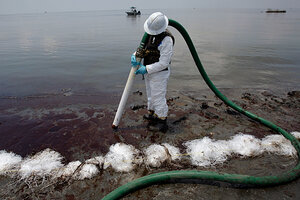 Eric Gay/AP/File
The Deepwater Horizon blowout sent at least 4.4 million barrels of oil into the Gulf of Mexico before the leak was sealed on July 15, according to researchers from Columbia University in New York.
The results compare well with the most recent government estimate, released Aug. 2, that 4.1 million barrels flowed into the Gulf between April 22, when the blowout occurred, and mid July.
It is important to pin down the flow rates, from the government's perspective as well as from a scientific perspective. The federal government will use the figure in any legal action it takes against BP and other companies involved in the incident, including fines. And scientists will have a better baseline from which to measure the short-term and long-term effects of the release on the environment.
The latest estimate and specifics about the approach used to reach it were published Thursday on Science Express, the online companion to the journal Science. The study represents the first oil-release estimate to appear in the formal, peer-review scientific literature.
---