Gulf oil spill: research voyage to search for oil can't find any
Halfway through a 10-day voyage, a government-sponsored expedition isn't finding any traces from the Gulf oil spill, directly contradicting findings by several independent research teams.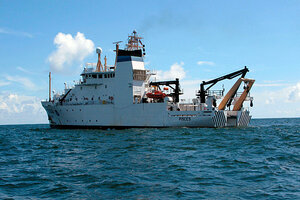 Ann Driver/Reuters
A government-sponsored expedition of scientists searching for leaked oil in the Gulf of Mexico is reporting Thursday that, more than halfway into the 10-day voyage, testing has not yet produced evidence of oil either in underwater plumes or embedded in sediment.
That conclusion contradicts recent findings by several independent research expeditions that discovered oil close to the Macondo well, which released 4.9 million barrels (205 million gallons) of oil into the Gulf following the April 20 explosion of the Deepwater Horizon oil rig. BP, which owned rights to the well, said it permanently plugged the Macondo well on Sept. 19. Some researchers say as much as 80 percent of the oil spilled since April remains in the Gulf.
The debate about how much oil remains in the Gulf started in August when a report published by the National Oceanic and Atmospheric Administration (NOAA), concluded that 74 percent of the oil had been recovered, evaporated or naturally dispersed, leaving a residual 26 percent "on or just below the surface" of water or in sand.
IN PICTURES: The Gulf oil spill's impact on nature
Following criticism from independent research efforts that complained it was too early to make such determinate results, NOAA pulled back from that report, suggesting that it was only intended as a work in progress that "will be updated as new data comes in," says Ben Sherman, a NOAA spokesman.
---