Energy-efficient homes, courtesy of federal tax credit
An expiring tax credit is pushing homeowners to boost energy efficiency. Can it work for you?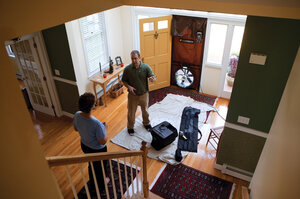 Melanie Stetson Freeman/Staff
Anthony Berke, a software programmer and self-described numbers guy, deemed it prudent to spend $11,000 in August to seal air leaks in his 150-year-old home in Exeter, N.H.
The place was drafty, costing as much as $6,000 to heat during winter, but before this year he couldn't justify the expense. By taking advantage of a local utility program worth $4,500 to him – plus a $1,500 home-efficiency federal tax credit – Mr. Berke expects to slash heating bills and recoup his out-of-pocket costs within two years. "I have enough confidence in this that I cut the number of gallons in my oil contract in half," he said.
"Cash for caulkers," as the tax credit is nicknamed, lets homeowners claim credits worth up to 30 percent of materials costs when they take certain steps to improve home efficiency. Maximum credit: $1,500. The program expires Dec. 31.
With family budgets tight, homeowners aren't always maxing out the credit, since doing so means spending $5,000 on qualifying materials (labor costs don't apply toward the credit). Some are replacing a single door or changing out a few windows.
"In these times, people may not look to do something aesthetic with their homes, or buy furniture or do anything that represents excess," said Jennifer Schwab, director of sustainability for Sierra Club Green Home, a website with advice for home-owners. "But this sort of thing is a necessary evil that's also being recognized by our government as essential for our planet. So taking advantage of the incentives while they exist is a good thing to do."
First, stop the waste
---