Is coal power headed for a downsizing in US?
Utilities may close up to 1 in 5 coal-fired power plants after tougher EPA air pollution rules go into effect next year, Wall Street investment banker Credit Suisse recently reported. Coal power is losing its price edge to natural gas, too.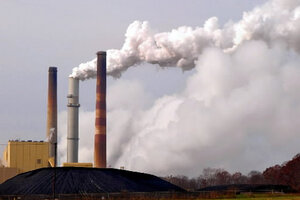 Ken Stewart/ZUMA Press/File
Tougher federal air pollution rules coming next year could prompt electricity companies to close as many as 1 in every 5 coal-burning power plants in America, primarily facilities more than 40 years old that lack emissions controls, according to a recent Wall Street analysis.
The regulations now being crafted by the Environmental Protection Agency (EPA), expected to go into force next April and November in accordance with the Clean Air Act, are part of a long ratcheting back of mercury, acid-rain, and smog-forming emissions from utility smokestacks.
What's surprising is the extent to which those EPA rules – combined with a recent drop in the price of natural gas – could over the next four to five years cause the utility industry to accelerate retirement of old coal-fired power plants rather than spend to upgrade the plants' emissions controls, says the study by Credit Suisse, a Wall Street investment banking firm.
"If the EPA rules were not bad enough for coal generators, we think a large chunk of the US coal fleet is vulnerable to closure simply due to crummy economics where we see coal pricing at a premium to natural gas," says the study, released late last month. "We see the company specific implications of EPA policy as interesting when considering that 15-30 percent of the US coal fleet is at risk of either closure or needing significant [capital expenditure] to stay in operation."
---