Gulf oil spill update: What's known now about cause and effects
Amid hearings on the cause of the Deepwater Horizon disaster, government scientists, academics, and those most affected by the Gulf oil spill are at odds over the extent of its effects.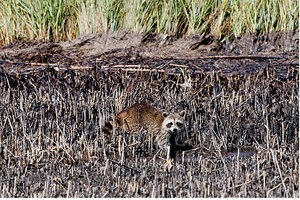 Patrick Semansky/AP
The well responsible for the Gulf oil spill was permanently sealed on Sept. 19. Since then, little else regarding an event many consider the worst environmental disaster in American history has been so categorical.
The presidential commission investigating the accident is searching for what caused the explosion, but is not yet assessing blame. Government scientists are offering relatively positive observations about state of the Gulf, which are being vociferously questioned by some independent scientists and fishermen. The government also differs with oil industry economists on how much the now-ended moratorium on deep-water drilling hurt the Gulf economy.
The effects of the spill are so complex that they may not be fully known for years. But they are emerging.
IN PICTURES: Destructive oil spills
What is known about the cause?
Investigators know that a huge bubble of flammable methane gas escaped the well and ignited after shooting up the drill pipe, past several seals that were meant to suppress it. How and why the gas escaped is one focus of the presidential commission looking into the accident and its implications for offshore drilling.
The commission's final report is due Jan. 12. A second report, by the US Coast Guard and the Bureau of Ocean Energy Management, Regulation and Enforcement, will be available March 27.
So far, the three companies involved – Transocean (owner of the Deepwater Horizon rig), BP (holder of the lease for the well), and Halliburton (a contractor) – are engaged in a mutual blame game.
---