Copenhagen one year after: Did global warming talks accomplish anything?
A new report finds that the much maligned Copenhagen Accord could give negotiators at global warming talks in Cancun, Mexico, next week something to build upon.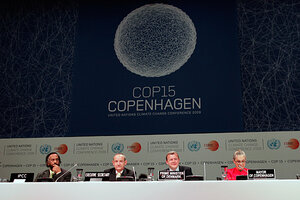 Anja Niedringhaus/AP/file
The widely criticized global warming agreement that emerged from the Copenhagen summit last December has actually put climate talks in a decent position as negotiators gather to resume discussions in Cancun, Mexico, Monday, according to a UN-sponsored report.
So far, 140 countries have signed the accord, though it is nonbinding. The report looks at what might happen if the countries fulfill only their more modest pledges or if they fulfill their most aggressive pledges.
Under this second, best-case scenario, emissions of greenhouse gases could drop 7 billion tons a year by 2020 compared with business as usual. While that would fall 40 percent short of the widely accepted goal of holding global warming largely in check by century's end, it would be a useful start, the report's authors add.
The difference could be made up through with existing technologies, they estimate. Those technologies, however, would have to be ramped up more aggressively than the Copenhagen Accord envisions.
---