Gulf oil spill: Deep water cleanup still needed?
The debate over how much oil remains in the Gulf and where it is continues as research groups, environmental organizations, and government scientists conduct separate missions.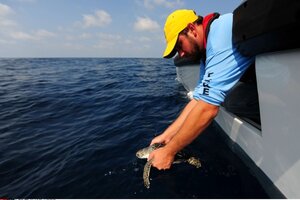 Newscom
A report released Thursday specifies that there is not enough oil remaining near the Macondo wellhead to warrant continued cleanup operations in the deepwater region of the Gulf of Mexico. As a result, response teams dedicated to cleanup efforts are being redirected to focus solely on oil mats located in shallow, sub-tidal areas offshore.
National Incident Commander Rear Adm. Paul Zukunft said the report prepared by his team is based on a six-month collection effort of 17,000 water and sediment samples that started in May, one month after the explosion of the Deepwater Horizon oilrig that released 205 million gallons (4.9 million barrels) of oil into the Gulf.
The report found no oil in sediments collected beyond the shoreline. It also finds that less than one percent of samples taken since early August exceeded the Environmental Protection Agency's benchmarks for polycyclic aromatic hydrocarbons, which are carcinogenic, and that none of the water samples exceeding these benchmarks originated from the damaged well.
The news contradicts the work of Samantha Joye, a University of Georgia marine biologist whose team continues to report findings of thick oil layers deeply embedded on the ocean floor as far as 70 miles from the Macondo well site.
Joye was a member of a team of scientists reporting in mid-August that 80 percent of the oil remained in the Gulf in a highly toxic state and that, due to the high volume of dispersants used near the Macondo site, it is impossible to estimate how long it will take for the oil to fully degrade.
---
Subscribe to Recharge
Get the Monitor stories you care about delivered to your inbox.