Search for clues is on after birds fall from sky in Arkansas
Dead red-winged blackbirds, starlings, and grackles rained down on Beebe, Ark., on New Year's Eve, freaking out local residents. After 3,000 birds fall from sky, state biologists look for answers.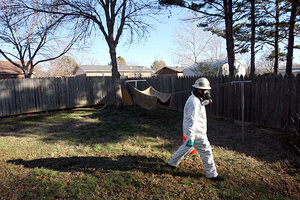 Stephen B. Thornton/The Arkansas Democrat-Gazette/AP
The lead detective in the case of the raining birds loaded her car with boxes of the dead creatures on Monday, taking them for shipment to a national laboratory in the hope that tests would reveal why thousands of birds suddenly fell from the sky upon the small town of Beebe, Ark.
In the middle of the New Year revelry, as many as 3,000 red-winged blackbirds, common grackles, and European starlings – which often flock together in winter – rained out of the skies, a seemingly Hitchcock-esque phenomenon that scared local residents and prompted concerns about a possible toxic event.
"This was very traumatic for a lot of people. It was very scary," says Arkansas state ornithologist Karen Rowe, talking via cellphone while on her way to ship the birds' bodies to an ornithology lab at the University of Wisconson-Madison. "There were a lot of people who ... witnessed the birds falling from the sky, and since it was New Year's Eve night, it lent some questions to whether there was foul play."
---