For town made famous by 'Erin Brockovich,' a toxic sequel?
Hinkley, Calif., battled pollution of its ground water by chromium 6 in the 1990s – a case that inspired 'Erin Brockovich.' Now the substance has escaped its containment barrier.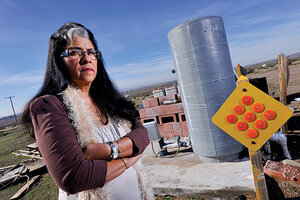 Greg Vojtko/Special to The Christian Science Monitor
This past Christmas may have been Karen Dodd's last chance to be Santa Claus.
Each year, Ms. Dodd reads the letters to Santa from the children on her mail route and grants their wishes, dropping off their gifts with a North Pole return address.
A Hinkley, Calif., native, she's saved the notes, planning to return them to the children when they grow up. But the future of this Mojave Desert community is uncertain.
Hinkley – made famous by the movie "Erin Brockovich" for the triumph of ordinary people over industrial polluters – faces a toxic sequel. The plume of hexavalent chromium that was at the heart of the movie has slipped past a containment barrier, complicating efforts to make the community's water safe.
Pacific Gas and Electric caused the contamination in the 1950s and '60s, when it used chromium 6, as it's also called, to fight rust in cooling towers, and then stored chromium-tainted water in unlined ponds. The substance leaked into Hinkley's ground water. By the early '90s, PG&E started buying up and demolishing homes in Hinkley.
Remediation efforts have brought down the contaminant level substantially, but some tests still show levels above the safety limit that state officials have set for Hinkley. After PG&E's well tests last year indicated that the plume was shifting, the company announced in December that it had offered to buy 130 more properties at the edge of the plume – most of them along Dodd's route.
---