Mystery bird deaths: Blame it on harsh winter, fireworks, or 'avicide'?
It's not unheard of that birds fall from the sky or fish die off en masse – but all at once around the world? Hard cold snaps are emerging as a likely cause of some of the bird deaths and fish die-offs.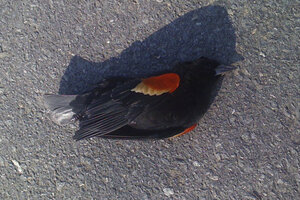 Arkansas Game and Fish Commission/Handout/Reuters
Thousands of red-winged blackbirds, cowbirds, starlings, and grackles dead in Arkansas. Five hundred more in Louisiana. Fifty jackdaws fall on a street in Stockholm. And around the world, millions of fish floating belly-up.
It's the stuff of apocalyptic novels. Scientists have not yet ruled out pollution or chemical toxins as the cause of nearly a dozen mass animal die-offs, from Arkansas to Brazil, in the last week. But as officials investigate, both the mundane and the intriguing are emerging as potential causes.
Because birds are considered indicator species that reflect the health of the surrounding environment, the spate of mass deaths has unsettled many Americans.
The top 10 weirdest stories of 2010
Explanations offered thus far "sound interestin­g and scientific­, but may we remind you, birds have been flying our skies since the dawn of time and rarely have you heard reports of large quantities of birds just dropping to their death," writes Christopher Koulouris on the Huffington Post website. "Which leads one to wonder is there some fundamenta­l shift in our ecology going on or is this just too much of a series of fluke random events?"
---