How long does it take species to go extinct? Longer than previously thought.
Habitat destruction drives species extinct more slowly than previously thought, according to a new model described in this week's Nature. 'We have bought a little time for saving species,' says scientist.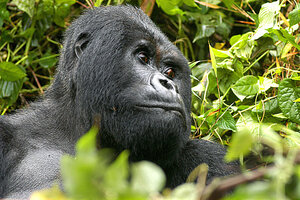 Riccardo Gangale / AP
The pace at which plants and animals are vanishing from the planet as their habitats shrink may be overstated by as much as 160 percent or more, according to new research.
An approach widely used to estimate extinctions from habitat loss is conceptually flawed, says a study, set for publication in the May 19 issue of the journal Nature. The researchers involved say that their new method more accurately reflects the interplay of shrinking habitats and the populations that rely on them.
The research is one of at least two new studies highlighting scientists' efforts to sharpen the tools needed to track the scope of the species-extinction problem – and to design approaches for dealing with it.
Another challenges the theory that there is a 'magic number' of organisms, below which the species may not be able to recover.
In both cases, the issues are more than academic, specialists say. Projections of the impact of shrinking habitat on extinctions can feed into local wildlife management decisions on how much land to conserve. They also affect long-term projections of the extinctions traceable to global warming and its effects on habitats worldwide.
Additionally, the use of a single benchmark for a population's viability may prevent conservation managers from nurturing species whose numbers fall below that threshold but still may be recoverable, explains Steven Beissinger, an ecologist at the University of California at Berkeley who took part in the study.
The development of a new tool for estimating extinctions "is welcome news, in the sense that we have bought a little time for saving species," says Stephen Hubbell, an ecologist at the University of California at Los Angeles and one of two scientists who performed the analysis.
---