Home deconstruction: Can an entire house be recycled?
Deconstruction of a home to reuse or resell its materials is gaining popularity as a more environment-friendly alternative to demolition. Sometimes it even saves money.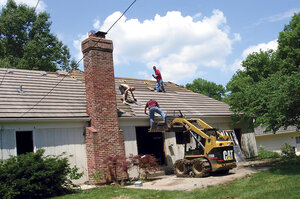 Photos courtesy of Jack Williams
From Florida to Washington State, homeowners are discovering an environmentally friendly – and, increasingly, cheaper – alternative to demolition: home deconstruction.
This labor-intensive, job-creating approach takes unwanted buildings apart systematically and turns the pieces into new home construction or tax-deductible donations to nonprofit reuse centers, thus saving them from the landfill.
Construction and demolition debris take up more than one-third of landfill space annually, but on average, more than 60 percent of a house – and in some cases, more than 75 percent – could be reused or recycled, says Bradley Guy, who researches architecture and deconstruction at The Catholic University of America.
"Deconstruction, although it's difficult to do, offers a lot of opportunities," says Jesse White, creator of deconstructioninstitute.com and owner of an architectural salvage store in Sarasota, Fla.
Of course, building materials have been reused for as long as there have been buildings. But where salvaging typically involves cherry-picking the pieces of most obvious value – stained-glass windows, ironwork – deconstruction reclaims as much of the building as possible.
Environmental benefits
Jack Williams and his wife, Jane York, spent 28 years in a 1950s ranch house in Leawood, Kan. When they decided to remodel and add an addition, they learned that their house's unstable foundation meant they would have to remove the house and start over on the site.
---