Bid to repair Lake Michigan and Great Lakes, one marsh at a time
A $2 billion restoration effort may help rehabilitate Lake Michigan and the other Great Lakes, but environmentalists say it may be too late to reverse four centuries' worth of damage.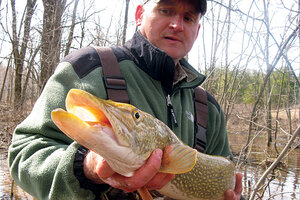 Richard Mertens
Shod in knee-high rubber boots, Jim Jolly sloshes through shin-deep water, searching for fish. This tangle of submerged grass "is kind of what they're looking for," says Mr. Jolly, a Brown County conservation official.
Each spring northern pike, long, slender game fish with razor teeth, leave the open waters of Lake Michigan. They ascend rain-swollen creeks and ditches to lay their eggs in marshes and other flooded lowlands.
It's a difficult trip, both going and coming back. But farming and other activities have made it still harder by destroying wetlands and eliminating many spawning areas. Here on the soggy western shore of Green Bay, an arm of Lake Michigan, nearly three-quarters of the wetlands have disappeared since white settlers arrived in the 19th century.
Now, with the government's help, conservationists and landowners are trying to make it easier for the pike. Using backhoes and bulldozers, they are scooping out and reconnecting degraded wetlands in a bid to restore some traditional spawning areas. They hope to boost the number of pike, a native predator that is common but not nearly as abundant as it once was. At the same time, they hope to help rehabilitate Green Bay, one of the most damaged bodies of water on the Great Lakes.
"Everything you see under water was excavated," says Jolly of the little grass-choking wetland he's exploring. From a fish's perspective, he says, this marsh just off a county highway is nearly perfect.
---