Raging wildfires: Climate changes to blame for record season?
Many scientists suggest that climate changes could be causing certain kinds of wildfires for which the West's forests are not well adapted. This year could help researchers better understand and fight the trend.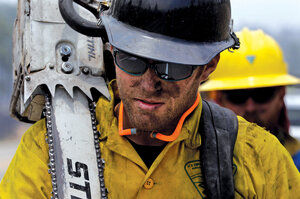 Jae C. Hong/AP
The images are stark: soot-grimed firefighters steering bulldozers or wielding shovels to clear underbrush; curtains of orange flame tracing the contours of summits; aircraft dumping chemicals to slow a fire's progress.
Between Jan. 1 and early July of 2011, slightly more than 38,000 wildfires charred the landscape in the United States at a record pace. So far this year, wildfires have consumed just under 4.9 million acres of forest and grassland, a cumulative expanse the size of New Jersey.
That's 1 million more acres than fires consumed during the same period in 2006, which saw a record 9.9 million acres burned for the entire year.
Beyond the numbers, this year's fires may provide the first large-scale tests of the effectiveness of projects undertaken over the past decade to help forests survive wildfires, several specialists say.
The West's forests are adapted to deal with certain types of wildfires, researchers note. But since the mid-1980s, they add, some of these forests have experienced an increasing number of fires to which they are not well adapted.
Many researchers trace this shift in part to climate change. Thus, restoration efforts focus not only on how to reestablish fire regimes that these forests can best endure, but also on how to do this in the face of an already-changing climate.
The alternative: large, intense fires likely to trigger long-term shifts in the makeup of vegetation, with as-yet-unknown effects on ecosystems and watersheds.
---