The climate news is bad, but prospects for climate talks may be worse
UN-sponsored climate talks opened Monday in South Africa amid grim news on global warming and deeply divisive questions over how, or whether, to expand or extend the Kyoto Protocol.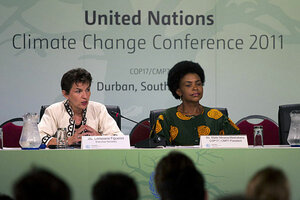 Rogan Ward/Reuters
Delegates from 191 countries and the European Union opened UN-sponsored talks Monday in Durban, South Africa, amid deeply divisive questions over when and how to replace the 1997 Kyoto Protocol with an agreement that is legally binding on all major greenhouse-gas emitters, not just developed countries.
The talks are taking place against a backdrop of grim news concerning Earth's climate, including rising concentrations of heat-trapping carbon dioxide gases and a recent report by the Intergovernmental Panel on Climate Change (IPCC) that highlights the increased risks emerging from extreme-weather events.
Adding to pressure on the Durban delegates, a recent analysis from the UN Environment Program found that pledges some 80 countries made over the past two years to reduce emissions or slow emissions' growth rates fall far short of what's needed by 2020 to put the world on a path to holding the increase in global average temperatures to 2 degrees Celsius by the end of the century.
---