Hey, what happened to winter? What its wimpiness portends for spring.
Despite a few powerful snowstorms, the winter of 2011-12, with record-breaking temperatures and less precipitation than normal, has been the fourth warmest on record in the US. What gives?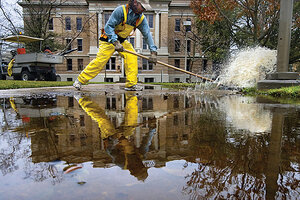 Stuart Villanueva/Bryan-College Station Eagle/AP
The winter of 2011-12 might well earn the title of "the winter that wasn't" in many parts of the United States.
The season has entered the books as the fourth warmest on record for the Lower 48, according to an analysis by the National Climatic Data Center in Asheville, N.C.
In January, for instance, daily high-temperature records were broken across the northern Plains. Minot, N.D., posted a 61 degree F. high on Jan. 5, eclipsing the previous record of 58 degrees set in 1906.
Despite several powerful snowstorms that crossed the continent during the season, the extent of the country blanketed with snow was the third smallest since satellites began keeping track 46 years ago. The amount of rain was also below normal.
What a contrast with the winter before. Who could forget the seemingly endless conga line of storms that traversed the country? That winter also was somewhat colder than normal, which meant the snow didn't melt significantly between storms, explains Jeff Weber, a meteorologist at the National Center for Atmospheric Research (NCAR) in Boulder, Colo.
"This year was dramatically different," he says.
---