California ready to cut greenhouse gases. Next, doing it.
After five years, California has put in place rules to cut greenhouse-gas emissions statewide back to 1990 levels. But lingering effects of the recession have pushed implementation back a year to 2013.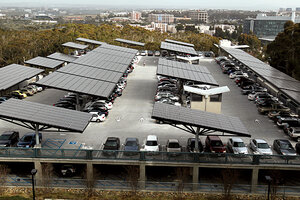 Mike Blake/Reuters/File
California's historic effort to remake global-warming regulations in the United States is at last starting to take off its training wheels.
When then-Gov. Arnold Schwarz­en­egger signed the Global Warming Solutions Act in 2006, his purpose was not only to establish the most rigorous regime of greenhouse-gas emissions reductions in the US, but also to prove to a reluctant nation that the "cap and trade" policies rejected by Washington are not an economic catastrophe waiting to happen.
The success or failure of that law will have national – and even international – ramifications, as other states and Washington itself look to see if California can avoid the doomsday scenarios laid out by critics: lost jobs, higher energy costs, and dubious environmental gains.
Slowly, the first answers are starting to emerge.
The five-year slog has revealed both the surprising willingness of some industries to take part in the process and the dogged determination of others to impede it at virtually every step. The report card is mixed. While all the rules are now in place and there are signs that the law has kindled greater action against global warming statewide, full implementation has been pushed back a year, to 2013, because of the lingering effects of the recession. Lawsuits could also undermine its effectiveness.
"The state has done the lion's share of the work in spelling out what needs to be done to reach the goals, and it's a pretty amazing story to see how far the auto companies have come in doing their part," says Simon Mui of the Natural Resources Defense Council, an environmental group. "But the oil companies are still dragging their feet and fighting tooth and nail."
---