Climate change report: time to start preparing for the worst
It's time to start protecting people from the impact of severe-weather events, a panel says. The report offers further evidence of how the climate change conversation is shifting.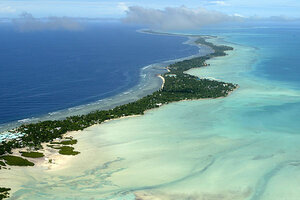 Richard Vogel/AP/File
Girding communities now to bounce back from droughts, floods, heat waves, and severe storms they currently experience will go a long way to helping them adapt to long-term global warming.
That is the broad message contained in a 582-page report from the Intergovernmental Panel on Climate Change and released Tuesday.
The report surveys the current state of scientific knowledge about the impact global warming could have on nine types of extreme-weather events. The report spends the majority of its nine chapters exploring ways – from simple networks to spread warnings of a looming tropical cyclone to broader social changes, such as educating women and including them in community planning – to reduce the risk to people and property from weather extremes.
The volume is the strongest signal yet of a sea change in thinking during the past decade on adaptation to climate change.
Although the IPCC has dealt with the subject all along, adaptation is seen by many activist groups on global warming as a cop-out – a topic aimed at diverting attention from the need to reduce emissions of greenhouse gases.
But researchers have indicated that even if countries slammed the brakes on emissions today, the climate would continue to warm because carbon dioxide remains in the atmosphere for centuries. The gradual-but-relentless build-up of CO2 in the atmosphere since the dawn of the Industrial Revolution is an indication that humans are pumping it into the air faster than natural processes can remove the excess.
Increasingly, some degree of adaptation has come to be seen as a necessity, not a diversion.
Teasing out trends in extreme weather and identifying global warming's fingerprint are challenging, acknowledges Thomas Stocker, an atmospheric scientist at the University of Bern in Switzerland and co-chair of the IPCC working group that reviews the state of climate science. By definition, extreme weather events are relatively rare and require observations – of consistent, high quality – over long periods of time and with "extremely good spatial coverage," he says.
---