Ice age study delivers blow to global-warming skeptics
A new study finds that rising levels of carbon dioxide drove rising temperatures at the end of the last ice age. The findings contrast with previous studies, which skeptics of human-triggered global warming said showed that CO2 levels weren't an important factor.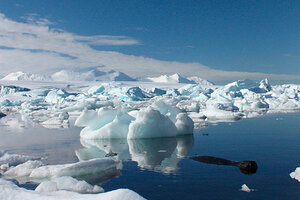 Alister Doyle/REUTERS/File
Rising levels of carbon dioxide drove much of the global warming that thawed Earth at the end of the last ice age.
That's the conclusion a team of scientists has drawn in a new study examining the factors that closed the door on the last ice age, which ended about 20,000 years ago.
The result stands in contrast to previous studies that showed temperatures rising ahead of increases in atmospheric CO2 levels. This has led some skeptics of human-triggered global warming to argue that if warming temperatures came first, CO2 wasn't an important factor then and so can't be as significant a factor today as most climate scientists calculate it to be.
The measurements from the previous studies were taken from ice cores extracted from thick glaciers in Antarctica. The new work supplements that data with temperature evidence from 80 locations around the globe.
The results show that while temperature increases around Antarctica appear to have led increases in atmospheric CO2, the picture globally was the opposite – CO2 increases paved the way for temperature increases.
"The new work is a significant advance" in the study of the climate conditions surrounding Earth's cycle of ice ages, notes Richard Alley, a Penn State University geologist who specializes in studying glaciers and the climate records encoded in the ice.
It's the latest indication that researchers' understanding of CO2's effects on climate "is confirmed by the history of climate," he writes in an e-mail.
The results also hold notes of caution for today, notes Jeremy Shakun, a climate researcher at Harvard University in Cambridge, Mass.
---