Report: Humans near tipping point that could dramatically change Earth
Human activity is affecting Earth in many ways, but a new study suggests that continued population growth and its impact on climate and ecology could trigger a more profound chain reaction of effects within little more than a decade.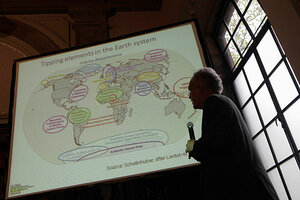 Ricardo Moraes/REUTERS
The variety and distribution of plants and animals on Earth – and, for many species, prospects for survival – may be nearing an abrupt, fundamental change because of human activity, warns an international team of ecologists and biologists.
Unless humanity deals with the underlying causes that could be pushing Earth's biosphere toward such a change, the results could lead to social and economic instability, write the researchers in a study unveiled Wednesday in the journal Nature.
The underlying triggers that the researchers say could lead to a global ecological tipping point have a familiar ring: population growth and the resulting thirst for resources, with their effects on land use, climate, and habitats.
The research, with related studies, are part of a package the journal pulled together in advance of the UN Conference on Sustainable Development scheduled for June 20-22 in Rio de Janiero. The meeting marks the 20th anniversary of the "Earth Summit," as the first Rio sustainable-development conference was dubbed.
Scientists have sounded warnings about the effects of habitat destruction, global warming, and other changes humans have wrought on their surroundings for years. Moreover, the notion of tipping points long has been applied to climate, as well as ecology, at least on a local or regional scale.
But for ecology, "the new twist here is that rather than thinking about individual parts of the system, we began to think about the biosphere as a whole," says Anthony Barnosky, a biologist at the University of California at Berkeley and the study's lead author.
---