Thanks to North Dakota, US waste of natural gas grows rapidly
The United States is posting rapid growth in the waste of natural gas in new oil fields where the fuel is either burned or vented into the atmosphere. Experts say the process damages the environment and fails to maximize the return to investors.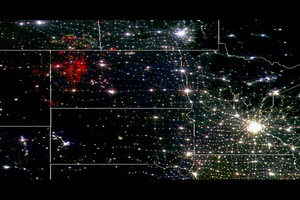 National Oceanic and Atmospheric Administration
The United States is flaring so much natural gas into the atmosphere - burning it as oil-field waste rather than extracting energy from it in power plants - that it now leads the world in the growth rate at which it is trashing that energy source.
Evidence of the trend can be seen flickering in the night across western North Dakota, where new oil drilling in the Bakken shale formation there has helped propel a surge in US flaring since 2007. As is often the case, many companies find it cheaper to burn off gas that emerges in new oil fields, rather than build pipelines and facilities to collect it.
But that common practice has created a big problem globally. About 5 trillion cubic feet (b.c.f.) of natural gas were flared or vented without burning worldwide last year. That huge amount of wasted energy is roughly equal to a quarter of all natural gas consumed in the US annually, the World Bank reports. Flaring also dumped 360 million tons of greenhouse gases into the atmosphere over the same period, equal to the exhaust of 70 million cars.
Even so, flaring, which produces carbon dioxide emissions, is less harmful than venting natural gas directly to the atmosphere. That's because natural gas is mostly methane, about 25 times more potent than CO2 in trapping atmospheric heat.
From space, the light of gas flares blazing in the night is tracked by orbiting satellites that relay the data to analysts at the National Oceanic and Atmospheric Administration (NOAA). From there, analyzed data goes to the World Bank, which since 2002 has campaigned to get nations to reduce flaring and quit wasting gas.
---