Going for the record: Can anything stop 2012 from being warmest ever?
For super-warm 2012 to end up as an average year in the lower 48 states would require an astonishing, and record-breaking, cold snap over the final four months. That's not in the forecast.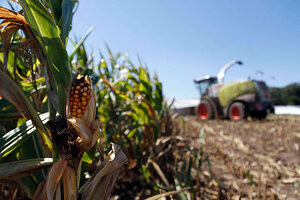 Darren Hauck/Reuters
As the United States heads into the final three months of the year, 2012 is likely to end up as the warmest year on record for the lower 48 states, according to an analysis from the federal government's National Climatic Data Center.
That would mark the fourth time in the last 14 years that annual average temperatures for the continental US either set records or flirted with them – a cluster unmatched since the 1930s.
Since January, year-to-date temperatures for the continental US have consistently run well above the 20th-century average with each passing month – reaching a maximum of 6 degrees Fahrenheit above average for the period ending March 31, then declining steadily to 4 degrees F. above the 20th-century average for the period ending Aug. 31.
Still, that 4 degrees is at least a full degree higher than January-to-August averages in any of the five warmest years on record.
"That's quite a jump," says Jake Crouch, a climate researcher at the center, located in Asheville, N.C.
The year's unusual warmth for the US results from a one-two punch, many researchers say. Normal swings in large-scale climate features, such as El Niño and La Niña, are superimposed over a longer-term worldwide warming trend triggered by the buildup of atmospheric greenhouse gases that come from burning fossil fuels, as well as from land-use changes, researchers say.
Even if year-to-date temperatures were to fall back to the 20th-century average by the end of the year, 2012 would still be a record buster, Mr. Crouch says.
To pull off that feat of cooling, he explains, September through December would have to rank among the 20 coldest final four months on record – highly unlikely given the historical record as well as seasonal forecasts for the final four months of 2012.
---