California gas prices take a dip, amid calls to investigate the spike
Californians are still reeling from the unprecedented spike in gas prices last week – for no apparent reason. Lawmakers call for a federal investigation of whether foul play sent prices soaring.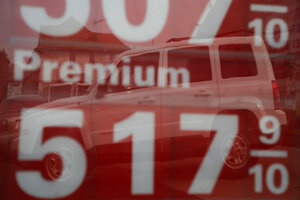 Jae C. Hong/AP
Sticker-shocked Californians are getting out their (tiny) kazoos to celebrate today – that's because gas prices all over the state edged down slightly overnight.
From Oakland to Long Beach, the prices at corner gas stations averaged a half-cent drop to $4.666, according to AAA, which tracks gas-price statistics.
This means that "the worst may be behind us," says AAA spokesman Michael Green, via e-mail. He is quick to add: The average in California remains extraordinarily high and is about 86 cents more than the national average of $3.813 a gallon. Gas prices in at least 12 states are a full dollar less.
The recent price spike in California was the largest, single-state weekly increase since hurricane Ike hit Galveston, Texas, in September 2008, says Mr. Green, adding, "and the highest weekly increase for California on record."
The rise in prices last week in California was also unprecedented, he says, noting that, generally, dramatic price spikes take place only when there is a natural disaster or significant international event.
Typically, such price extremes have prompted a flurry of demands from lawmakers to look behind the headlines. This season is no exception. Just this week, Sens. Dianne Feinstein (D) and Barbara Boxer (D) of California and Rep. Janice Hahn (D) of California called for the Federal Trade Commission to investigate possible price manipulation and deceptive practices.
---