Wolf hunting returns to Wisconsin: But how humane will it be?
Wisconsin will open its first wolf-hunting season in decades Monday – a testament to the recovery of the Midwestern population. But native American groups are opposed and controversy still swirls about the use of dogs.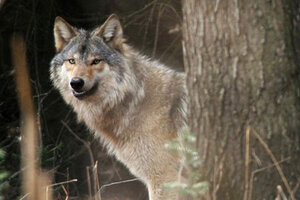 Jayne Belsky/Wisconsin Department of Natural Resources/AP/File
For Wisconsin hunters, some of whom have bagged just about every animal tracked in the Midwest, from deer to coyotes to bears, Monday morning is a much-anticipated moment. For the first time in half a century, the Badger State will allow wolf hunting again.
The decision has not been without controversy. A judge has issued an injunction against the use of dogs in the hunt, with a hearing on whether the practice is humane set to take place on Dec. 20. Moreover, native Americans tribes have invoked 19th century treaty rights in an unsuccessful attempt to curtail the hunt.
Yet the opening of the season Monday marks a milestone in decades of efforts to restore wolves in the upper Midwest. Plans for the hunt were set in motion when the federal government dropped Midwestern wolves from the endangered-species list on Jan. 27. Once abundant in Wisconsin, wolves were hunted and trapped to virtual extinction by 1960. Only a few hundred survived in northern Minnesota and on Michigan's Isle Royale.
After they were placed under state protection in 1957 and federal protection in 1974, however, wolf populations enjoyed a remarkable resurgence. Biologists believe there are now about 850 wolves in Wisconsin, with packs roaming mostly the northern third of the state, and an estimated 3,600 more in Minnesota and Michigan's Upper Peninsula. There are nearly three times more wolves in the Midwest than in the Rocky Mountain states.
Minnesota also plans to allow the hunting of wolves this fall starting Nov. 3, and Michigan's Legislature is considering a hunt. Montana and Idaho already have wolf-hunting seasons, and Wyoming will begin its own this fall.
---