Mystery in Gulf of Mexico: Why is oil leaking from Deepwater disaster site?
Oil identified as coming from the Macondo well, site of the 2010 Deepwater Horizon disaster, is leaking into the Gulf of Mexico at the rate of 100 gallons per day. The Coast Guard is investigating.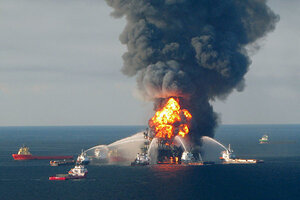 U.S. Coast Guard/Reuters/Files
Oil is leaking into the Gulf of Mexico at the rate of about 100 gallons per day near the Macondo wellhead, the site of the oil spill over two years ago that became the worst environmental disaster in US history.
The US Coast Guard reports that the oil has been leaking since at least Sept. 16, when satellite images first revealed a sheen of surface oil located about 50 miles off the Louisiana coast and in the vicinity of where the Deepwater Horizon oil rig exploded on April 20, 2010, killing 11 people.
Five million barrels of oil, or 205 million gallons, were released into the Gulf in the three months following the explosion.
The sheen has varied in size since its detection. Samples taken to Coast Guard laboratories in Morgan City, La., and New London, Conn., concluded the oil originated from the Macondo well.
On Sunday, the Coast Guard dispatched remotely operated vehicles to collect oil samples from the underwater site. The agency reported on Wednesday it suspected the oil was leaking from a discarded containment dome, one of several technologies used to contain the original oil spill. The dome is located about 1,600 feet from the Macondo site.
---