Wildland fires: New yardstick for risk aims to help protect communities
The risk index announced Wednesday is a tool for communities in the 'wildland-urban interface,' where development has pushed into areas in which wildfires are part of the ecology.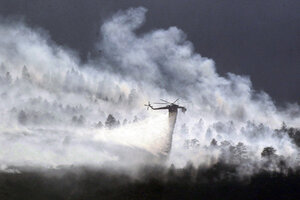 Rick Wilking/Reuters
Over the years, scientists have created measurement scales to assess the risk of earthquakes, hurricanes, and tornadoes. In addition to measuring the severity of individual events, the scales are used to help determine the design and location of homes and other structures in the likely path of such natural disasters.
Now, researchers with the Commerce Department's National Institute of Standards and Technology and the US Forest Service have crafted the first such system to help landowners and communities better prepare for and resist another threat: wildland fires.
Such fires have become a growing threat in what's known as the "wildland-urban interface" (WUI) – those places where suburban development has pushed farther and farther into forests, natural grasslands, and other areas where fire is part of the natural ecology, especially in the American West.
According to the US Bureau of Land Management's Interagency Fire Center, the 10-year period beginning in 2002 saw an annual average of nearly 71,000 wildland-urban fires that burned a total of 4.7 million acres. Through October 2012, the number of such fires is slightly below average (54,000), but the amount of damage is nearly double (9.1 million acres).
The interagency fire center estimates that federal agencies spend some $1.2 billion a year on WUI fire suppression, with state and local agencies spending millions more. In many cases, the cost could have been lessened – and perhaps lives saved – if the growth of foliage around homes and other structures had been kept in check and if more fire-resistant materials had been used in building such structures.
---