Stubborn US drought could be costlier than hurricane Sandy
As drought conditions persist across the South, hitting farmers and ranchers, parts of the Mississippi River are on the verge of becoming unnavigable. The potential costs are large.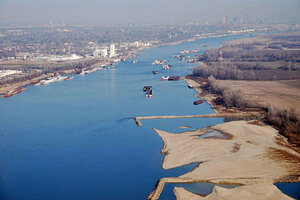 Colby Buchanan/United States Coast Guard/AP
Less than 18 months after the US Army Corps of Engineers blasted gaps in a levee on the Mississippi River to cope with a record flood, it's getting ready to detonate explosives for the opposite reason – to clear rock outcroppings on the bottom of the drought-depleted waterway so cargo can keep moving.
"From one extreme to another in just the space of 12, 15, 16 months? It's just incredible," says Richard Heim, a drought specialist at the National Climatic Data Center in Asheville, N.C.
The time last year, the drought in the continental US was largely confined to the its southern tier. Since mid-July, however, between 60 and 65 percent of the continental US has been experiencing moderate-to-exceptional drought (though the figure slipped below 60 percent for two weeks in November), according to the National Weather Service's Climate Prediction Center in College Park, Md.
While forecasters expect some easing of drought conditions during the next three months in patches around perimeter the drought's vast core, drought is expected to persist or intensify from the Southwest up into the Rocky Mountain states.
---