Keystone XL pipeline: Nebraska's approval puts Obama in a bind
The Nebraska governor backed the new Keystone XL pipeline plan Tuesday. A decision by President Obama about the proposal is expected to receive heavy criticism either way.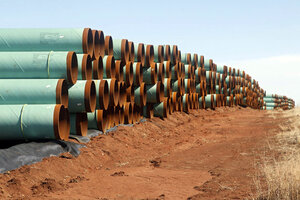 Sue Ogrocki/AP/File
In just the first week of his second term, President Obama is being confronted with what could become one of the most controversial decisions of his presidency: what do with the Keystone XL pipeline.
Mr. Obama put off the decision twice, citing concerns that the 1,700-mile pipeline extensions present environmental safety concerns in Nebraska. The original plans had it stretching along the Ogallala Aquifer, an underground water supply that is the greatest irrigation source to US farmland, supplying eight states. Sixty-five percent of the aquifer is in Nebraska, which makes the state ground zero in the debate over the pipeline.
The president ultimately blocked the pipeline's approval in January 2012, which then allowed TransCanada, the operator based in Calgary, Alberta, to draft a new proposal in May.
On Tuesday, Nebraska Gov. Dave Heineman (R), who previously hesitated at approving the project, sent Obama and Secretary of State Hillary Rodham Clinton a letter saying he is now satisfied with the pipeline's new routing. The potential environmental risks, he says, are lessened.
TransCanada is set to carry $200 million in third-party liability insurance to cover any cleanup costs, Governor Heineman says in the letter. He also writes that the proposed reroute "avoids many areas of fragile soils in Northern Nebraska" and "avoids a shallow groundwater area ... where the aquifer is thin, wells are shallow, and bedrock is close to the surface."
The pipeline construction would generate $418 million in economic benefits to the state and about $13 million in property-tax revenues in its first year of operation, Heineman adds.
---