Are human-caused and natural global warming different? Study says yes.
A study suggests that human-caused and natural global warming episodes affect rainfall rates differently. The finding could help scientists better forecast what's ahead.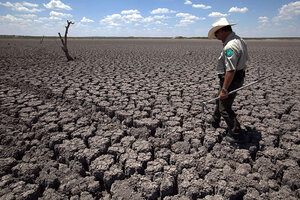 Tony Gutierrez/AP/File
Human-triggered climate warming appears to leave a unique fingerprint on global rainfall rates compared with natural warming, according to a new study.
While rainfall rates increase whether the long-term warming trend is natural or not, the rate of increase appears to be higher during natural warming trends.
The result might help resolve a long-standing discrepancy between changes in rainfall projected in global climate models and changes projected by studying the historical record, researchers say.
The study suggests that "carbon dioxide has a fundamentally different mode of warming than natural climate change" – one that leaves a unique signature on rainfall rates, says Jeff Severinghaus, a climate researcher at the Scripps Institution of Oceanography in La Jolla, Calif. While the effect is most pronounced the the Pacific basin, the work "is about something more fundamental.... Natural and human-caused climate change really produce different effects."
"It will become increasingly clearer, as time goes on, that the rainfall patterns that we're seeing are not same ones we see in past warm periods," he adds.
In general, current climate forecasts project higher precipitation rates for the tropics and high latitudes, with already-dry areas in the subtropics experiencing additional drying.
Some trends in extreme precipitation already appear to be emerging. Since the 1950s, more regions of the globe appear to have experienced an increase in extreme precipitation events than have shown a decline – with the most solid evidence coming from North America, according to the Intergovernmental Panel on Climate Change.
---