Do Obama cabinet picks match his greener second-term talk?
President Obama nominated new leaders for the Department of Energy and the EPA Monday. Environmentalists like one of them, energy-industry advocates like the other.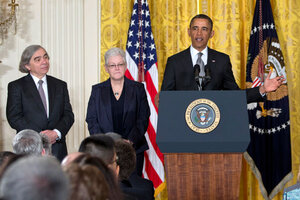 Carolyn Kaster/AP
In announcing his new choices to lead the Department of Energy and the Environmental Protection Agency Monday, President Obama sent a potentially mixed message about whether he would back up his greener rhetoric since reelection with strong action.
Key decisions loom over major new coal plant emissions regulations as well as new proposals to begin exporting vast amounts of US coal and natural gas to Asia. Mr. Obama's choices offer some indication of how the administration might move forward.
On one hand, his decision to tab Gina McCarthy to lead EPA reinforces the commitment he made in his State of the Union address to curb global warming. As chief of the EPA's Office of Air and Radiation, Ms. McCarthy is known as a key architect of tough new limits on emissions from power plants.
But Ernest Moniz, his choice to lead the Energy Department, has been a booster of nuclear power and chaired a recent Massachusetts Institute of Technology study advocating the globalization of natural gas trade through liquid natural gas (LNG) exports. The report also looked favorably on hydraulic fracturing or "fracking," which is opposed by numerous environmental groups.
In some ways, the choices could be a sign that Obama's second-term energy policy will be more of the same. In his first term, Obama embraced an "all of the above" energy policy that vastly expanded US oil and natural gas production as well as renewable energy. At the same time, he directed the EPA to clamp down on power plant greenhouse emissions with tougher regulations. Both choices appear to reinforce that pattern.
---