Asian carp are already in Great Lakes, new report suggests
A new study suggests that live Asian carp might be in two places beyond the barrier designed to keep them out of the Great Lakes.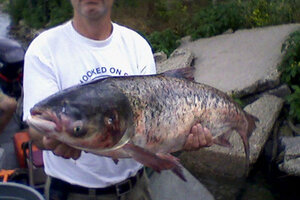 Illinois Department of Natural Resources/AP/File
A new study released this week is adding to the speculation that Asian carp are already in the Great Lakes.
Researchers report discovering traces of carp DNA in the western basin of Lake Erie as well as in a smaller lake well beyond the electric barrier that is supposed to fence the carp into the Mississippi River Basin. The scientists note that Asian carp have been caught in both locations previously – though not in large enough numbers to suggest an infestation.
The findings come as Great Lakes states battle with shipping companies and the federal government over fears that the carp could move into the Great Lakes from the Mississippi River through a canal near Chicago.
State officials say the nonnative fish – which can reproduce quickly and weigh as much as 100 pounds – would devastate the Great Lakes ecosystem and imperil a $7 billion sport-fishing industry. The city of Chicago, barging interests, and federal agencies say not enough evidence exists to prove the fish have penetrated the electric barrier in the canal, and that sealing off the canal entirely would cost billions of dollars and take years to complete.
---