How much water in that snowpack? Scientists seek a better gauge.
More accurate, more frequent measurements of mountain snowpacks will allow water managers to mete out reservoirs with greater confidence. Two watersheds in the western US are testing grounds for a new aerial approach.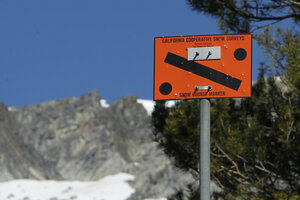 Rich Pedroncelli/AP
Scientists are testing a new approach for gauging the amount of water stored in mountain snows – reservoirs that supply more than 75 percent of the fresh water in the western US and that slake the thirst of some 1.5 billion people around the globe.
The aim is to measure the snow's water content more accurately and more frequently, so that water managers can mete out water stored in reservoirs more effectively. The data also are expected to improve snowmelt forecasts as a melt season progresses.
The three-year demonstration project is focusing on a watershed in California's southern Sierra Nevada Mountains that provides San Francisco with water and another watershed in Colorado that feeds the Upper Colorado River Basin.
Rapid population growth and the subsequent demand on water resources in a drought-prone region are enough to justify the effort, suggests Thomas Painter, a researcher at NASA's Jet Propulsion Laboratory in Pasadena, Calif., and the lead scientist on the project. Dr. Painter's research focuses on Earth's water and carbon cycles.
---