Climate change: Scientists now 95 percent certain we are mostly to blame
A draft summary prepared for the Intergovernmental Panel on Climate Change says that more than half of global warming is caused by human emissions of greenhouse gases.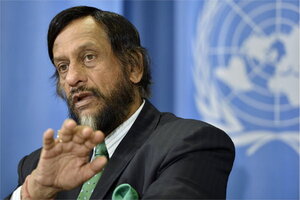 Martial Trezzini/Keystone/AP
Since 1951, Earth's climate has warmed by about 0.6 degrees Celsius, and researchers assessing the state of climate science for the Intergovernmental Panel on Climate Change (IPCC) are 95 percent certain that more than half of the warming is due to human emissions of greenhouse gases.
The statement is one conclusion in the final draft of a summary the IPCC is preparing for world policymakers on the state of the climate and climate science as part of its fifth assessment report on global warming.
The IPCC will release the full four-volume set and related summaries beginning at the end of September and into next year. The other volumes deal with current and projected effects of climate change.
The summary on climate and climate science will get word-by-word scrutiny at a meeting in Stockholm Sept. 23-26 as politicians and scientists arm-wrestle over the final text.
In the meantime, it gives clear insights into what scientists see happening to the planet's climate as human industrial activities, as well as land-use changes, pump increasing amounts of carbon dioxide and other greenhouse gases into the air.
In some areas, certainty over what is happening has increased since the IPCC published its last set of reports in 2007. Certainty over the human role has increase from "very likely" to "extremely likely," a verbal shift representing 90 percent certainly in 2007 to 95 percent for this round of reports.
The draft notes that despite the relentless build-up of greenhouse gases in the atmosphere, the rate of warming over the past 15 years has been small compared with warming between 1951 and 2012, suggesting that within an overall warming that began in the first decade of the 1900s, the climate system still displays substantial variability on time scales of a decade or so.
---