New research pins some extreme weather events on climate change
A new report identities anthropogenic causes for about half of 12 extreme weather events from 2012.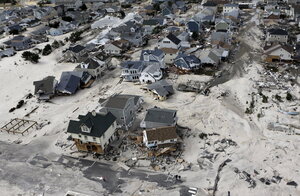 Mike Groll/AP
A new report plumbing 12 extreme weather events from 2012 for the degree to which human factors, especially carbon dioxide emissions, contributed to the disasters has identified anthropogenic underpinnings in some of the events, but not others.
The paper, a collaborative effort between 18 different research teams, is the latest effort to pinpoint the causes behind the storms, droughts, and warm spells that befell countries all over the world last year, in hopes of better understanding what climate trends can be expected in the future.
In recent years, how much climate change has been a factor in the hurricanes slamming into the US East Coast or the droughts parching farmland in the Midwest has been an outstanding question in climate science. Answering that question has acquired high-octane urgency, as scientists now suggest that better understanding the human origins of extreme weather could help scientists predict when, where, and how those events might impact people.
"People can actually use some of this information to make decisions," says Thomas Peterson, principal scientist at the National Climactic Data Center and one of the lead editors on the report. For example, it makes a difference to a Midwestern farmer who has just weathered a punishing drought whether or not that experience is rare event or part of a long-term trend toward a drier climate, he said.
---