'50 dirtiest' US power plants emit more greenhouse gases than South Korea
A new study by an environmental group suggests that reining in a handful of America's coal-fired power plants would have a major impact on greenhouse gas emissions.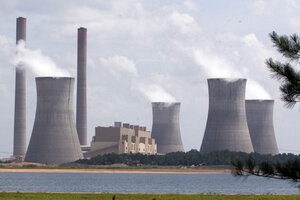 Gene Blythe/AP/File
Fifty US power plants emit more greenhouse gases from burning fossil fuels than all but six nations, says a new report.
The study by Environment America paints a bulls-eye on the nation's biggest coal-fired power plants, suggesting that reining in a relatively small share of America's 6,000 electric generating facilities could have a significant impact on greenhouse gas emissions.
The report comes as the Obama administration is preparing the nation's first-ever greenhouse gas emissions regulations for US power plants, which could be released as soon as this month. The administration's goal is to have power plant emissions regulations in place by 2015, and the new study provides a window into which plants could face steep federal fines unless they slash emissions or close.
Of the country's 6,000 coal, oil, natural gas, nuclear, wind, and solar electric-generating facilities, a small sub-group of mostly coal-fired power generators produces more than its share of the nation's carbon dioxide (CO2) emissions compared with the electricity it produces, the report found. The "50 dirtiest" power plants generated nearly 33 percent of the US power sector's carbon dioxide emissions in 2011 but only about 16 percent of its electricity.
US power plants are the largest source of greenhouse gases in the country, responsible for 41 percent of the nation's carbon dioxide pollution, the report states. But the "50 dirtiest" stand out for emitting more than 2 percent of the world's energy-related carbon dioxide pollution – which would place them at No. 7 if they were a country, behind Germany and ahead of South Korea.
---