Obama proposes cuts in power plant C02 emissions to tackle climate change
The EPA spoke of the health and other benefits of reining in climate change through reduced C02 emissions, while utility industry officials decry a 'war on coal' that will cost jobs and raise electric rates.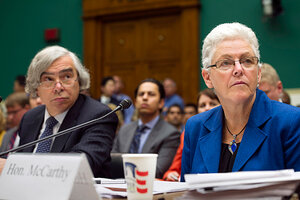 Cliff Owen/AP
The Obama administration proposed limits on carbon dioxide emissions from new US power plants Friday, taking a big step toward fulfilling a long-sought goal of fighting climate change by reducing greenhouse gas emissions.
Hailed as the first-ever nationwide limit on climate-warming pollution for power plants, the proposal would require that newly built coal-fired power plants capture and store underground about 20 to 40 percent of the carbon they emit. Critics blasted the plan, saying it would effectively "ban" coal power plants and harm the utility industry and the economy.
While coal and electric utility industry officials and their supporters in Congress charge the president with fighting a "war on coal" that will cost coal states jobs and raise electric rates, Environmental Protection Agency Administrator Gina McCarthy defended the proposed rules as affordable and reasonable.
While the EPA has, under the Clean Air Act put federal limits on toxic emissions of arsenic, mercury, and lead pollution that power plants emit – as well as on pollutants like sulfur dioxide and nitrogen oxides – there are currently no such limits on the carbon emissions from new or existing power plants. The proposed CAA rules will now undergo a 60-day public comment period, minor adjustments, and likely legal challenges as well, before being finalized next fall.
"By taking common-sense action to limit carbon pollution from new power plants, we can slow the effects of climate change and fulfill our obligation to ensure a safe and healthy environment for our children," Ms. McCarthy said in a statement. "These standards will also spark the innovation we need to build the next generation of power plants, helping grow a more sustainable clean-energy economy."
---