UN panel: 'Extremely likely' that human activity behind most global warming
The UN Intergovernmental Panel on Climate Change concludes that the past decade has been the warmest on record and, with medium confidence, that the last three decades are the warmest in 1,400 years.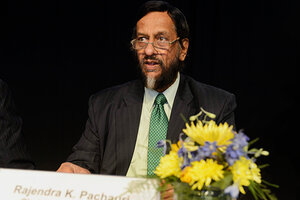 Bertil Enevag Ericson/TT News Agency/AP
The rise in global average temperatures over the past century is unequivocal, and it is "extremely likely" that more than half of the increase during the past 60 years stems from rising greenhouse-gas emissions.
That's the word from the Intergovernmental Panel on Climate Change, which on Friday released a much-anticipated final summary of the state of the climate.
The 36-page document, known as the summary for policymakers, aims to distill the results of a much thicker, more-detailed volume on the topic. Both were approved by representatives of 110 governments at a week-long meeting in Stockholm that ended Friday.
The documents represent the first of three major volumes on global warming, its effects, and pathways for addressing it that the UN-backed IPCC is scheduled to publish over the next 12 months.
The IPCC produces these volumes at roughly six-year intervals, in which it presents snapshots of the evidence for global warming and its effects, offers projections of the climate's future over the next century, and lays out policy options for addressing climate change. These volumes underpin ongoing negotiations over a global climate agreement overseen by the UN Framework Convention on Climate Change.
The evidence for warming comes from a variety of measurements, as well as from paleoclimate records, noted Thomas Stocker, a climate scientist from the University of Bern in Switzerland and co-chair of the IPCC's Working Group 1, which produced this first installment of the panel's Fifth Assessment Report.
For instance, the past decade has been the warmest on record, while each of the past three decades has been warmer than its predecessor, he noted during a briefing Friday morning.
This "provides us with a robust signal of a warming planet," he said.
---