Global warming: Record heat of today could be new norm in 2047, study says
A new study suggests that, globally, the maximum temperatures of the past 150 years will be the new minimum by 2047. It also pinpoints when this shift will take place in 26 cities.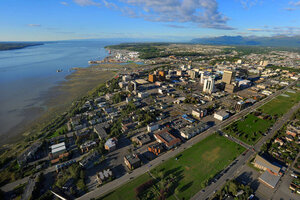 Darrell Pederson/City of Anchorage/AP/File
If greenhouse-gas emissions continue to grow unchecked, the maximum temperatures, rainfall, and other aspects of climate that humans have experienced during the past 150 years will become the new minimum globally by 2047 (give or take 14 years), according to a new study.
That year applies to global averages. For specific locations, this shift could come as early as 2020, the results show.
The shift appears soonest in the tropics, where some 5 billion people live – many of them among the world's poorest – and where the planet hosts the highest levels of biodiversity, according to the study's projections. Based on one metric (ocean acidification), today's norms already became the new minimum in 2008.
The timing for the consistently altered climate depends on how quickly greenhouse-gas emissions from human industrial activity build in the atmosphere, the results show.
Using emissions scenarios in reports by the UN-sponsored Intergovernmental Panel on Climate Change (IPCC), the team estimates that relatively aggressive efforts to curb emissions could delay the switch by up to 30 years. But even with strong curbs on emissions, the shifts will still take place.
These changes "will result in environments like we have never seen before," says Camilo Mora, a biogeographer at the University of Hawaii at Manoa and the lead author of the study, which appears in Thursday's issue of the journal Nature.
---