Should localities be allowed to go it alone?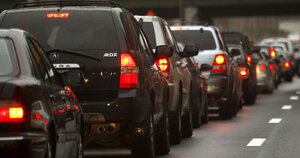 REUTERS/Mike Segar
Over at Dot Earth, The New York Times's Andrew Revkin reacts to the collapse of Michael Bloomberg's congestion pricing scheme with a question about self-governance:
If a city that is the economic engine of a state cannot find support for its chosen path to clearing its streets of traffic estimated to cause billions of dollars in lost productivity, that doesn't bode well for a world with astonishingly variegated nations trying to find a common path to limit climate risks without harming economies.
How will we ever think (and act) globally if we can't even act locally?
We saw a similar dynamic play out recently on a much larger scale in the battle between the EPA and a group of 20 states led by California. The state had passed a law forcing automakers to cut their greenhouse emissions. The EPA stepped in, asserting that only the federal government had the right to regulate such emissions. As it happens, the federal rules are less restrictive than California's, so the state is unable to curb auto emissions within its borders as much as its legislature would like to.
---