World Bank backs massive India coal plant, calls it "clean development"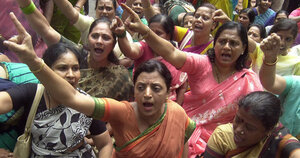 AP Photo/Rajesh Nirgude
The World Bank Group has come under fire from environmentalists for approving financing for a 4-billion-watt coal-fired power plant in Mundra, Gujarat, India, which will be funded in part by money intended to reduce carbon emissions.
On Tuesday, the board of the World Bank Group's International Finance Corporation approved $450 million in loans over 20 years for the hyperbolically named Tata Ultra Mega, a $4.14 billion power plant expected to go online in mid-2011. The plant, run by Tata, India's largest corporation, will provide electricity for five states in the north and west.
According to a press release from the IFC, the plant will be India's cleanest and most efficient:
While the plant will emit 23 million tons of CO2, its use of supercritical technology will make it India's most efficient coal-fired plant. The intensity of the plant's carbon emissions is expected to be 40 percent less than the average of existing coal-fired plants in India and 16 percent less than the average of coal plants in OECD countries. Its competitive tariff will also improve access to energy for many low-income people in the country.
How much is 23 million tons of CO2? According to this handy website produced by the Center for Global Development, if it were running today, the Mega Ultra would be, in absolute terms, the second highest CO2 emitting power plant in India and the 23rd highest in the world.
---