High-school senior calls textbook publisher on climate denial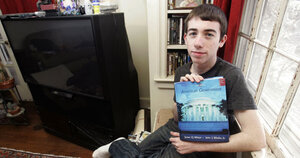 AP Photo/Mike Derer
A New Jersey high-schooler has raised questions about politically motivated scientific inaccuracies about global warming in a popular U.S. government textbook, a charge that has been backed up by top climate scientists.
The Associated Press reported yesterday that Matthew LaClair, a high school senior in Kearny, N.J., took issue with statements in his AP Government textbook, "American Government," published by Houghton Mifflin. The book, written by James Q. Wilson and John DiIulio, presents established scientific facts, such as the existence of the greenhouse effect, as up for debate. The authors falsely claim that "the scientific community is divided" over the existence of global warming, and that "scientists do not know how large the greenhouse effect is, whether it will lead to a harmful amount of global warming, or (if it will) what should be done about it."
---
Subscribe to Recharge
Get the Monitor stories you care about delivered to your inbox.