Today's number: 4.6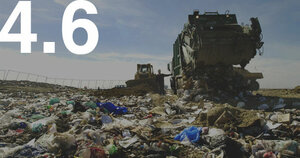 John Nordell / The Christian Science Monitor / FILE
[Source: EPA]
That amounts to a total of 251 million tons each year. Of this, 82 million tons are recycled (that's 33 percent, or 1.5 pounds per American). Of the remaining 169 tons, 138 are buried in landfills and 31 tons are incinerated.
In a landfill, all those drippy garbage bags, decomposing food, rainwater, and industrial chemicals mix together into a poisonous brew known as leachate, which, true to its name, can leach into the ground, contaminating soil and drinking water. Landfills also produce methane, a powerful greenhouse gas. Incineration causes air pollution and toxic ash, although the process does reduce the amount of solid waste, and some incinerators can recapture some energy.
Reduce your packaging: According to this 2006 EPA report (PDF), our garbage consists of 31.7 percent containers and packaging. Simple steps such as using a refillable water bottle instead of buying water in plastic bottles, storing your food in Tupperware instead of plastic bags, and choosing products that minimize packaging will cut this number down.
Give it away (or sell it): Before you toss something, ask yourself if it may be of value to someone. If the answer is yes, go to Craigslist or Freecycle and post and create a post describing your item. You never know: one man's trash is another man's avant-garde furniture.
---