Unilever accused of destroying Borneo rainforests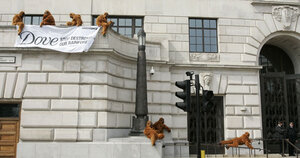 AP Photo/Sang Tan
Greenpeace is accusing Unilever, the makers of Dove soap, of driving deforestation in Borneo by buying palm oil from companies that are clearing the country's rainforests, threatening native people and wildlife.
Last week, protesters from the environmental group donned orangutan costumes and staged protests outside Unilever's offices in London, Rome, and Rotterdam and at a factory in Port Sunlight, England. On their website Greenpeace has launched a video accusing Unilever of contributing to deforestation.
The video mirrors the Dove Self-Esteem Fund's "Onslaught" video, which depicts a young, blond-haired girl amidst a barrage of beauty advertisements. Except this time it's a peeved-looking Indonesian girl battered by scenes of felled trees, brush fires, and dead orangutans.
---