Tesco tries out carbon labels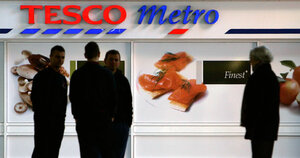 AP Photo/Lefteris Pitarakisl/FILE
When comparison shopping for groceries, you may soon have something to think about other than price and calories: carbon emissions.
The UK-based grocery chain Tesco announced last week that it will be testing out "carbon footprint" labels for 20 of its products, from potatoes to orange-juice to lightbulbs, that will display the amount of greenhouse gases produced over the the items lifecycle.
Tesco, the world's fourth-largest retailer (which runs shops called Fresh & Easy in the Western US ), is working with The Carbon Trust, a company funded by the British government that seeks to reduce greenhouse gas emissions. The Carbon Trust's Carbon Reduction Labels carry with them an endorsement from the Carbon Trust and a promise to reduce carbon emissions of that product within two years.
"We're delighted to be taking this major step with the Carbon Trust," said Tesco chief executive Terry Leahy in a press release. "We want to give our customers the power to make informed green choices for their weekly shop, and enlist their help in working towards a revolution in green consumption. We encourage all of our suppliers and competitors to support the Carbon Trust in this collaboration."
---