Debunking the debunkers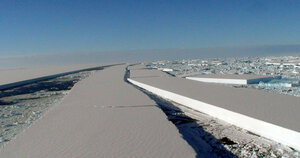 AP Photo/British Antarctic Survey, Jim Elliott
An environmental blog that challenges climate skeptics has discovered that a free-market think tank's list of 500 scientists who oppose the theory of human-caused global warming is more or less bogus.
DeSmogBlog, a Canadian blog that aims to "clear the PR pollution that is clouding the science on climate change," took issue with a list released by the Heartland Institute, a nonprofit research organization based in Chicago.
The list, which you can view by going to this article and then clicking on the Download Full Text (pdf) link at the bottom, purports to name more than 500 "co-authors" whose research indicates that global warming is caused by natural cycles and not fossil fuels.
Last week, DeSmogBlog took the trouble of contacting some of the scientists.
DeSmogBlog manager Kevin Grandia emailed 122 of the scientists yesterday afternoon, calling their attention to the list. So far -- in less than 24 hours -- three dozen of those scientists had responded in outrage, denying that their research supports Avery's conclusions and demanding that their names be removed.
---