McCain's climate triangulation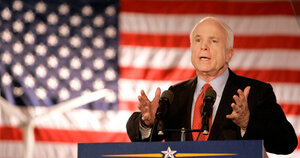 Blogger for The Christian Science Monitor
Republican presidential contender John McCain is attempting to distance himself from President Bush's climate policies by calling for mandatory caps on greenhouse gas emissions. He is also distinguishing himself from his Democratic opponents by calling for smaller reductions.
In a speech Monday at a wind turbine plant in Portland, Ore., the Republican presidential contender said that the "facts of global warming demand our urgent attention."
We have many advantages in the fight against global warming, but time is not one of them. Instead of idly debating the precise extent of global warming, or the precise timeline of global warming, we need to deal with the central facts of rising temperatures, rising waters, and all the endless troubles that global warming will bring. We stand warned by serious and credible scientists across the world that time is short and the dangers are great. The most relevant question now is whether our own government is equal to the challenge.
Meeting this challenge, says McCain, will require a "decisive shift away from fossil fuels." And the best way to achieve that shift, he said, is "a cap-and-trade system to change the dynamic of our energy economy."
As a program under the Clean Air Act, the cap-and-trade system achieved enormous success in ridding the air of acid rain. And the same approach that brought a decline in sulfur dioxide emissions can have an equally dramatic and permanent effect on carbon emissions. Instantly, automakers, coal companies, power plants, and every other enterprise in America would have an incentive to reduce carbon emissions, because when they go under those limits they can sell the balance of permitted emissions for cash. As never before, the market would reward any person or company that seeks to invent, improve, or acquire alternatives to carbon-based energy. It is very hard to picture venture capitalists, corporate planners, small businesses and environmentalists all working to the same good purpose. But such cooperation is actually possible in the case of climate change, and this reform will set it in motion.
---