Sweet sorghum eyed for biofuel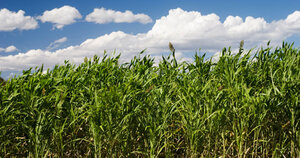 iStockphoto
Sweet sorghum, a sugarcanelike plant that thrives in semi-arid climates, can cheaply provide food, animal feed, and fuel all at the same time without straining food supplies, said agriculture experts Monday.
In a press release, the International Crops Research Institute for the Semi-Arid Tropics (ICRISAT), a nonprofit based in Hyderabad in Andhra Pradesh, India, found that the crop's hardiness and versatility could provide a steady income for poor farmers.
"We consider sweet sorghum an ideal 'smart crop' because it produces food as well as fuel," said ICRISAT director William Dar. "With proper management, small-holder farmers can improve their incomes by 20 percent compared with alternative crops in dry areas in India."
---