Environmental sleight of hand in the Arctic?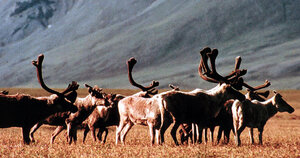 AP Photo/US Fish and Wildlife Service/FILE
Environmentalists have hailed recent announcements by the US Interior Department that purport to protect wildlife, but both of these announcements carry with them asterisks that should give greens pause.
On Friday, the Interior Department's Bureau of Land Management announced that some 340 square miles of ecologically sensitive land in the northeast section of Alaska's National Petroleum Reserve will be off limits to drilling.
In a reversal of its earlier policy, the BLM opted not to open 219,000 acres of Teshekpuk Lake and its islands to oil and gas leasing, and to defer for 10 years leasing on an additional 430,000 acres north and east of the Arctic coastal lake.
It sounds like a victory for environmentalists, until you remember that, a few years ago, some 800,000 acres around the lake were off limits.
At stake is hundreds of billions of dollars' worth of oil. Geologists estimate that the Teshekpuk Lake region, which lies roughly 175 miles west of the hotly contested Arctic National Wildlife Refuge, holds 2.8 billion barrels of oil, with 800 million in the deferral area. (The world consumes roughly 30 billion barrels of oil per year, with the US accounting for about one-quarter of that consumption.)
---