ExxonMobil facing shareholder revolt over global warming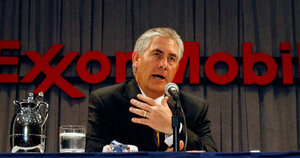 REUTERS/Mike Stone
Growing shareholder discontent over climate change is threatening a shakeup at the highest levels of ExxonMobil, the world's most profitable company.
On April 30, descendants of John D. Rockefeller, who in 1870 founded the company that would eventually become ExxonMobil, issued a press release publicly calling for an independent chairman to explore alternative fuels. "Having an independent chairman leading an independent-thinking board of very experienced directors will substantially improve Exxon's ability to look the future squarely in the face and will increase its flexibility," said Peter O'Neill, J.D.'s great-great-grandson. "The current members of the board appear to have considerable skills that are not being tapped fully."
At issue is Rex Tillerson's job. Currently, the Texas native serves as both chairman and CEO, positions he has held since 2006. The Rockefeller Family (they capitalize it for some reason) objects to what they perceive as Mr. Tillerson's hardline approach on climate change and are calling for him to relinquish his role as chairman and give the job to an outsider. The press release predicts dire consequences if the company continues on its present course:
ExxonMobil often argues that cheap and abundant energy is crucial for the economic advancement of poor economies. These countries are forecast, by ExxonMobil and others, to contribute the largest increase in energy use. If however, this energy use is based on continued reliance on hydrocarbons, as ExxonMobil predicts, we will see an unrelenting increase in global CO2 emissions with devastating consequences, especially for those who are poor in resources and influence, whether they live in developed or developing countries. To the extent that ExxonMobil's growth continues to rely on the sale of hydrocarbon energy to emerging markets, it faces a painful paradox, and, the Family believes, distances itself from its true legacy.
---