Gas prices accelerating scooter sales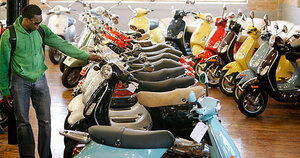 AP Photo/M. Spencer Green
These days, everyone seems to be talking about scooters. A long article on the Wall Street Journal includes a video of a reporter tooling around New York on a Vespa, in scenes that look right out of "Roman Holiday." At the LA Times, motorcycle blogger Susan Carpenter takes six higher-speed scoots for a spin. Last Thursday, the Associated Press ran a story discussing how high gas prices have prompted a 24 percent jump in scooter sales in the first quarter of this year. Also last week, the Denver Post reported record ridership in the Mile High City. And this publication beat them all to the story, running a piece in March headlined "Easy riders: Scooters on road toward mainstream acceptance."
It's a topic that is dear to me: Last July, fed up with delays on Boston's mass transit and unwilling to drive my car every day, I bought myself a Honda Metropolitan scooter and began using it to commute the four miles from my apartment to the Monitor's offices in downtown Boston. It goes about 40 miles an hour and gets between 80 and 100 miles per gallon (depending on the outside temperature and whether I ride like a maniac).
And yes, I'll be the first to admit that it's dorky, but I've found that I've become much happier after I stopped trying to look cool.
---